Shields Up | Learn about Cybersecurity Project Management (Virtual)
November 16 - 6:00-7:30 pm 
VIRTUAL
Shields Up | Learn about Cybersecurity Project Management
We expect more automation, integration, and online activity in the foreseeable future resulting in more cybersecurity risks and issues. Therefore, organizations and individuals are spending more resources on cybersecurity projects to implement, maintain and optimize the confidentiality, integrity, and availability of their digital services and data. The demand for cybersecurity projects and expertise is growing; it is a great time to learn about cybersecurity project management. Cybersecurity is complex and aligning to a multitude of international standards can be problematic. In Dr. Greg Skulmoski's presentation, attendees will be introduced to a project management approach that combines and tailors best practices to cybersecurity projects as detailed in his book Shields Up: Cybersecurity Project Management. The Guide to the Project Management Body of Knowledge, NIST Cybersecurity Framework, ITIL Service Management, ISO Risk Management, ISO Quality Management, and ISO Information Security Standards are aligned into a project delivery and optimization approach applicable to most cybersecurity projects, most of the time.
About our Speaker | Greg Skulmoski PhD, MBA, BEd, CITP, FBCS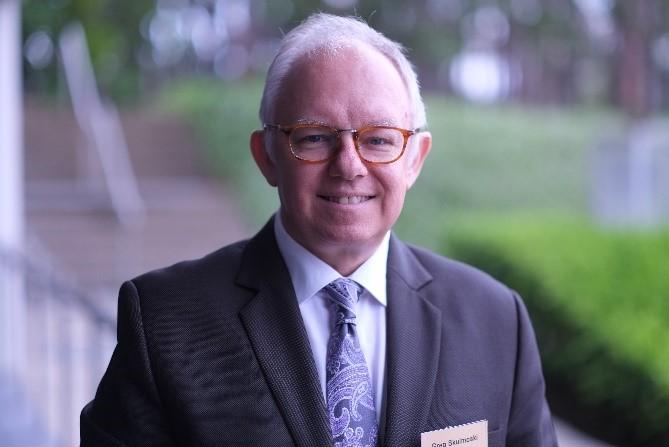 Dr. Skulmoski is an award-winning project manager having led critical infrastructure projects in Australia, Middle East, and Canada. Greg's innovative use of project management tools and processes won the CISO 2017 Middle East Security Award (for risk management in digital transformation projects). Later, Greg was one of the project managers for the Smartphone-Connected Pacemaker Devices program that placed third in Cleveland Clinic's Top 10 Medical Innovations for 2021. Greg has a long history with PMI as far back as serving on the year 2000 PMBOK® Guide Update Project Team (PMBOK® Guide 2000, Appendix C.2, p. 175) and receiving the Project Management Institute's Robert J. Yourzak Award in 2001. Dr. Skulmoski currently teaches risk management and project innovation management at Bond University in the Faculty of Society and Design, in Australia. Greg's critically acclaimed book – Shields Up: Cybersecurity Project Management brings together research and practice into a concise guide to cybersecurity projects. Greg and Chris Walker completed writing Cybersecurity Readiness: A Project Management Approach to Training scheduled for publication in 2023 Q4. Dr. Skulmoski and Dr. Ashkan Memari are writing Quantum Cybersecurity: A Transition Plan (2024 Q4).
It is no longer possible to register for this event